Posts for: September, 2012
By Carlos Abreu, D.M.D. and Mahvassh Abreu, D.M.D.
September 27, 2012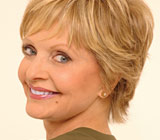 Life lessons are learned in the most surprising places. This is no different for celebrities. Take, for example, Florence Henderson, an actress, singer, philanthropist, author and star of the hit television series, The Brady Bunch. As she told Dear Doctor magazine, her experience with having four impacted wisdom teeth removed — at the same time — "...only made me more aware of how important dental care is." She continued, "This is why I have always gone every six months for a check up."
Another important lesson we want to share is the fact that even if your impacted third molars (wisdom teeth) are not bothering you or causing any pain, you may still need to have them removed.
Why? Having a tooth submerged below the gum, pressing on the roots of other teeth is problematic; the tooth should be removed so that you can avoid major dental problems before they occur. For example, it is not uncommon for us to find an impacted third molar pressing against the roots of the adjacent second molar. Furthermore, because the enamel crown of this impacted tooth is trapped below the gum, we sometimes find an infection, gum disease or even cyst formation occurring.
Often, the best time to remove a wisdom tooth is when it is not causing any problems. This is because a painful wisdom tooth or pain in the area of the wisdom tooth may be a sign that significant damage has occurred or is occurring. It is also better to remove wisdom teeth when you are young, as young healthy people with no prior infections at the site provide the best opportunity for us to remove the tooth with no complications.
To learn more about impacted wisdom teeth, continue reading the Dear Doctor magazine article "Removing Wisdom Teeth." Or if you suspect or already know that you have an impacted wisdom tooth, contact us today to schedule an appointment so that we can conduct a thorough examination that includes x-rays. During this private consultation, we will also address any questions you have as well as your treatment options. And if you want to read the entire article on Florence Henderson, continue reading "Florence Henderson."
By Carlos Abreu, D.M.D. and Mahvassh Abreu, D.M.D.
September 13, 2012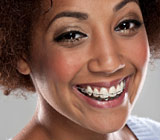 You didn't have your teeth straightened as a child. Is it too late, or should you have orthodontic treatment now as an adult?
Orthodontics is a sub-specialty of dentistry devoted to the study and treatment of improper bites, or malocclusions. Orthodontic treatment has the goal of slowly applying pressure to teeth in a way that moves them into proper alignment in your mouth.
Recommendations are for children to have their teeth assessed for orthodontic treatment before the age of seven. The whole process can be done more easily while their teeth are coming in and their jaws are still growing.
However, if your teeth are overcrowded, you have an overbite or an underbite, or your teeth are misaligned in other ways, it is never too late. If you "missed the boat" on orthodontic treatment before, here are seven reasons to consider doing it now.
Orthodontic treatment brings teeth, lips and face into proportion, resulting in a beautiful smile.
An attractive smile contributes to self-esteem, self-confidence and better self-image.
Because of improved self-esteem, you may see improved social and career success.
Teeth that are in proper alignment will function and wear better over the years as you age.
Properly aligned teeth are easier to keep clean, making you less prone to periodontal (gum) disease.
If you have any missing teeth that need to be replaced, this can be done more effectively if your remaining teeth are put into their correct spacing and position first.
Current options for treatment include fixed appliances (traditional braces) in which bands and brackets are bonded to the teeth and wires are threaded through them — or as an adult you may be able to use removable clear aligners. These consist of a series of nearly invisible computer-generated clear plastic trays that progressively move the teeth into better alignment.
Take the first step: call our office for an orthodontic evaluation. Having orthodontic treatment as an adult may be just the thing to give you an attitude boost as you move forward in your life.
Contact us today to schedule an appointment to discuss your questions about teeth straightening. You can also learn more by reading the Dear Doctor magazine article "Why Straighten Teeth?"