Posts for: December, 2012
By Carlos Abreu, D.M.D. and Mahvassh Abreu, D.M.D.
December 29, 2012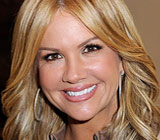 We've all heard of morning sickness, but did you know that it's also not unusual for pregnant women to experience oral discomfort? This is what Entertainment Tonight co-host Nancy O'Dell discovered when she was expecting her daughter, Ashby. In an exclusive interview with Dear Doctor magazine, Nancy described how her gums became extra-sensitive during pregnancy, leading her dentist to diagnose her with "pregnancy gingivitis" ("gingival" – gum tissue; "itis" – inflammation).
"While my dental health has always been relatively normal, pregnancy did cause me some concern about my teeth and gums," Nancy said. "With my dentist's advice and treatment, the few problems I had were minimized," she said.
It's especially important to maintain good oral hygiene during pregnancy with routine brushing and flossing, and regular professional cleanings. This will reduce the accumulation of the dental bacterial plaque that leads to gum disease. Both mother and child are particularly vulnerable to these bacteria during this sensitive time. Scientific studies have established a link between preterm delivery and the presence of periodontal (gum) disease in pregnant women. Also, the elevated hormone levels of pregnancy cause the tiny blood vessels of the gum tissues to become dilated (widened) and therefore more susceptible to the effects of plaque bacteria and their toxins. Gingivitis is especially common during the second to eighth months of pregnancy.
Excess bacterial plaque can occasionally lead to another pregnancy-related condition in the second trimester: an overgrowth of gum tissue called a "pregnancy tumor." In this case, "tumor" means nothing more than a swelling or growth. Pregnancy tumors, usually found between the teeth, are completely benign but they do bleed easily and are characterized by a red, raw-looking mulberry-like surface. They can be surgically removed if they do not resolve themselves after the baby is born.
If you are experiencing any pregnancy-related oral health issues, please contact us today to schedule an appointment for a consultation. If you would like to read Dear Doctor's entire interview with Nancy O'Dell, please see "Nancy O'Dell." Dear Doctor also has more on "Pregnancy and Oral Health: Everything You Always Wanted To Know But Never Knew To Ask."
By Carlos Abreu, D.M.D. and Mahvassh Abreu, D.M.D.
December 11, 2012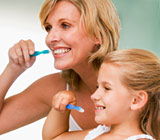 Some of the most important lessons parents and caregivers can give their children involve teaching and demonstrating good oral health habits. The following tips from the Centers for Disease Control and Prevention (CDC) are some ideas for helping you keep your children's teeth healthy.
Start cleaning teeth early.
As soon as a child's first tooth erupts (appears), you should clean it daily by using a clean, damp cloth. Once several teeth are in, you should switch to a small, soft-bristled toothbrush. As for using toothpaste containing fluoride, you typically should start using it to brush your child's teeth at around 2 years old. However, there are some situations in which we recommend using toothpaste earlier than age 2. It just depends on your child's mouth and development.


Use the right amount of fluoride toothpaste.
Many people are aware that using toothpaste containing fluoride is an important tool for fighting tooth decay. But, many are shocked to discover how much should be used and what could happen if too much is used and swallowed. Because children under the age of 6 may tend to swallow all or some portion of toothpaste, you should only use (and teach them to use) a small amount—about the size of a pea. Otherwise, they could be at risk for getting white spots on their permanent teeth years later from having swallowed too much fluoride. This is also a key reason for teaching children how to rinse and spit properly after brushing their teeth.


Supervise brushing.
Because children's abilities and maturity can vary greatly from child to child, you should brush your children's teeth until they have demonstrated the ability to handle the task alone. However, even when you give them the power to self-brush, you need to monitor them closely to ensure they are doing a thorough job, using the correct amount of toothpaste, and not brushing in a way that could damage teeth or gums. Brushing for too long and too hard are bad habits that can be detrimental to teeth and gums.


Talk to your child's doctor and with our office.
Did you know that your first appointment should be at age one? The age one dental visit can be critical in establishing great communication and trust, and preventing early childhood decay. And having a positive rapport with your dentist and physician is important at any age; however, it is vital for parents and caregivers to develop great communication with their healthcare professionals on behalf of their children from the start of life. Not only does it model good habits for them to observe, but it also helps you stay abreast of the oral and general health needs.
Want to learn more?
Contact us today to discuss your questions or to schedule a consultation. You can also learn more by reading the Dear Doctor article, "Oral Hygiene Behavior."