Posts for: April, 2013
By Carlos Abreu, D.M.D. and Mahvassh Abreu, D.M.D.
April 20, 2013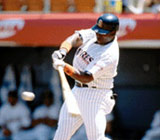 Chewing tobacco is a known cause of oral cancer, yet many a Major League Baseball player has been seen walking onto the field with a round tin visibly poking out of his back pocket. That was before this year. Recognizing the influence big-leaguers have on their young fans, MLB players agreed to a new contract that limits their use of chewing tobacco and their ability to carry it around their fans. The 2012 season is the first to be played under the new rules, which were championed by Baseball Commissioner Bud Selig.
One player who used smokeless tobacco heavily is Baseball Hall of Famer Tony Gwynn. The former Padres slugger earlier this year endured 14 hours of surgery to remove a cancerous growth from the inside of his right cheek and graft a nerve from his shoulder to replace a facial nerve damaged by the tumor. This was Gwynn's second cancer surgery in less than two years.
When it comes to oral cancer, the importance of early detection can't be stressed enough. Unfortunately, this form of cancer is not usually detected until a late stage so the overall survival rate is poor, with only 58% surviving five years after treatment. Yet when oral cancer is detected while a lesion is small, survival rate exceeds 80%. That's why an oral cancer screening is always part of your dental check-up or regular cleaning appointment at this office.
During this screening we will examine your face, neck, lips, mouth, tongue and the back of your throat for any suspicious lesions (sores or ulcers) or lumps. Of course, if you notice any unusual lesions, or color changes (white or red patches), anywhere in your mouth that do not heal within two-three weeks, please come in to see us as soon as possible. And if you need help kicking a tobacco habit, we can advise you on how to get it.
If you would like more information about oral cancer, please contact us or schedule an appointment for a consultation. You can also learn more by reading the Dear Doctor magazine article "Oral Cancer."
By Carlos Abreu, D.M.D. and Mahvassh Abreu, D.M.D.
April 04, 2013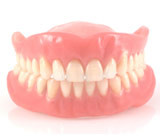 The image of Grandma and Grandpa taking out their dentures every night and placing them in a glass of water by the bed is still a reality for a lot of people.
If you have dentures, you probably know that the conditions in your mouth will or have changed over time, necessitating adjustments. This is because full dentures exert continuous pressure on the gum tissues and underlying bone of your jaw resulting in a slow shrinkage. The gum tissues, and the bone beneath, atrophy or melt away. The result — over time the dentures lose their original tight fit and become loose. This can cause discomfort and embarrassment as the dentures slip and slide around.
Reline (refit) your current dentures. If your dentures are in good condition and are functional, applying a new inner lining to the dentures will restore their former fit. Because the rate of bone loss differs from person to person, some denture wearers may need more frequent relines than others. A temporary reline involves adding a layer of moldable plastic material under the denture while you are in the dentist's chair. The material will harden and fill in spaces where the gums have shrunk away from the denture. For a more permanent relining, the dentures must be sent to a dental lab, which will replace the temporary material with permanent denture material. This can usually be done in one day.
A new set of dentures. If your dentures are worn or you cannot speak, eat, bite or chew properly with them, a new set of dentures may be the answer. The condition of your jaw is another factor. If examination shows that a reline will not achieve the fit and stability you need, then remaking the dentures is another option.
Dental Implants — State-of-the-art tooth replacement systems. Dentures used to be the only solution to the problem of missing teeth, but with today's technology it's amazing what dentists can do. Implants do not only replace teeth but also stabilize the gradual bone loss that takes place when teeth are missing. Choose dental implants to replace at least two of your missing teeth to anchor your dentures and make them more stable.
Have all your missing teeth replaced with dental implants. Dental implants are generally the best option for long-term denture wearers who have endured jawbone loss and can no longer tolerate dentures alone. Bridgework (or dentures) are attached to the implants, stabilizing them and the underlying bone. The new teeth also provide support to the face, lips and cheeks giving a more youthful appearance.
Contact us today to schedule an appointment or to discuss your questions about dentures and other tooth restorations. You can also learn more by reading the Dear Doctor magazine article "Loose Dentures."