Posts for: January, 2014
By Carlos Abreu, D.M.D. and Mahvassh Abreu, D.M.D.
January 29, 2014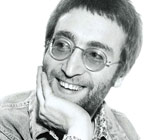 Lots of people collect Beatles memorabilia, but one Canadian dentist took this hobby to new heights recently when he paid $31,200 for John Lennon's molar at auction. According to published reports, Lennon had given the extracted tooth to his housekeeper as a souvenir in the 1960s after coming home from the dentist's office. The molar was discolored and had a cavity, according to the dentist who purchased it after the housekeeper's family put it up for bids. "For the cavity to be this large he probably wasn't seeing a dentist that regularly," the dentist said. His brushing and flossing routine may not have been that conscientious either!
For healthy teeth, it's important to have a good daily oral hygiene routine at home and regular professional cleanings here at the office. Our hygienist will scale your teeth to remove hard deposits (tartar), and polish them to remove stains for a wonderful, extra-clean feeling.
Dental hygienists are trained to do lots of other things to promote your oral health besides cleaning your teeth. They can check the skin in and around your mouth looking for any suspicious bumps, sores, etc., that may need further evaluation. They will also evaluate your periodontal health ("peri" – around; "odont" – tooth), checking for signs of gum inflammation and bleeding (gingivitis). And they monitor teeth for signs of decay, which is actually the world's most widespread disease.
Cavities, or dental caries as it is also known, are the most notable consequences of tooth decay. Left untreated, caries can lead to pain and tooth loss. John Lennon's dentist must have believed there was nothing more to be done for the badly decayed molar that later went on to fetch such a high price.
Unless you're a rock star, your teeth are worth a lot more in a healthy and functioning state — inside your mouth! So if it's been a while since your last appointment, please come in and see us. Remember: Good dental health is priceless.
If you would like more information on tooth decay, please contact us or schedule an appointment for a consultation. You can also learn more by reading the Dear Doctor magazine article, "Tooth Decay." Dear Doctor also has more on the "Dental Hygiene Visit."
By Carlos Abreu, D.M.D. and Mahvassh Abreu, D.M.D.
January 14, 2014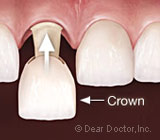 Like the ones worn by kings and queens of old, dental crowns were traditionally made of that most "royal" of metals: solid gold. This style of crown is still going strong after over a hundred years, but recent advances may have stolen some of its luster. Want to learn more about the different materials from which crowns can be made? Read on!
Gold crowns have stood the test of time, and many still consider them the best. Gold is one of the earliest materials to be successfully used for making crowns, and when properly done, it also lasts the longest: over 50 years in some cases. For these and other reasons, many dentists prefer to get gold restorations for their own teeth.
But in recent years, the use of gold crowns has been in decline — especially when the crown is for one of the front teeth. Why? In one word: aesthetics! With the advent of porcelain and porcelain-fused-to-metal (PFM) crowns, many people have opted to go with these more natural-colored tooth restorations.
PFM restorations have been in use for some four decades. They combine the strength of precious metals (gold or platinum) with the appeal of a finish that appears more like a natural tooth. With proper care, a PFM restoration may have a functional life of around 20 years.
With their pearly luster and semi-translucent sheen, all-porcelain crowns have an incredibly lifelike appearance. Porcelain itself is a glass-like material, which is specially modified to add strength when it's used in dentistry. In the past, there were some problems with brittleness in all-porcelain restorations. Today, newer formulations have been designed to avoid these issues.
High-tech materials that have recently become available to dentistry include a polycrystalline ceramic substance called zirconium dioxide or "Zirconia." It shows great promise in terms of aesthetics and strength, and is the subject of much ongoing research. One day, it may replace other materials and become the new "gold standard" of crowns.
Depending on the particular situation, one or more of these materials may be considered for your crown.
If you would like more information about crowns, please contact us or schedule an appointment for a consultation. You can also learn more about this topic by reading the Dear Doctor magazine articles "Porcelain Crowns & Veneers" and "Gold or Porcelain Crowns?"