Posts for: March, 2014
By Carlos Abreu, D.M.D. and Mahvassh Abreu, D.M.D.
March 25, 2014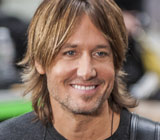 He once lived in Australia, wore his hair in a mullet, and played guitar in a band called The Ranch. Today, country music star Keith Urban looks different than he did when he started out — and it's not just the mullet that's changed. As before-and-after pictures show, he's had a smile makeover. His teeth, which were dull yellow in color, and used to have a large gap in front, are now white and shiny. The gap is still there — though it has been reduced to a more modest size. How did he manage to upgrade his image, yet keep part of his signature "look" intact?
Cosmetic dentistry has a number of ways to improve the appearance of a smile like Keith's. One is tooth whitening. It's a simple procedure that can be done in our office or at your home; either way, it's an effective treatment that offers great value. In-office whitening, using the most concentrated solutions under our direct supervision, will give you the fastest results. We can also prepare a take-home kit, with custom-made trays and safe bleaching gels you can use at home. You'll get similar results, but it will take a bit longer.
Of course, whitening isn't permanent (though it can be repeated when necessary); not all teeth can be lightened as much as you might like; and it doesn't correct gaps or unevenness. There's another treatment that does, however: dental veneers. These are wafer-thin coverings made of porcelain, which are bonded to the prepared surfaces of your teeth. They are available in a number of shades — from natural to "Hollywood white" — and can even hide minor chips or spacing problems. That's why veneers are often the treatment of choice when you're looking for a "red carpet" smile.
Perhaps the best thing about veneers is that they give you plenty of choices when it comes to designing your smile. You can choose how white you'd like your smile to be, and even fix some "flaws" — or not! So how much you choose to close that gap in your teeth is up to you… but if you're asking our opinion, the mullet has to go.
If you would like more information on dental veneers, please contact us or schedule an appointment for a consultation. You can learn more about this topic in the Dear Doctor magazine articles "Beautiful Smiles by Design" and "Porcelain Veneers."
By Carlos Abreu, D.M.D. and Mahvassh Abreu, D.M.D.
March 10, 2014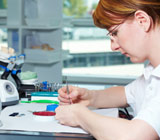 A crown restoration is a fabricated replica of a natural tooth. The mechanics and methods to prepare the tooth and attach the new crown are standard procedures in dentistry. But the crowns themselves — their individual shape, color and material from which they're constructed — can differ greatly depending on each patient's individual needs and desires. All these factors can have a bearing on cost — not to mention the process a dentist may employ to produce a custom crown.
Crowns are usually fashioned by a dental laboratory technician using castings of the patient's mouth prepared by the dentist. These professionals should be considered artists as well as scientists. And, like artists with certain areas of strength and expertise, individual technicians may also develop high practical skill for a particular type of tooth replacement; it's not uncommon for a dentist to use a different dental technician for a particular type and size of tooth to be restored. This could prove to be a factor in the final cost.
The efforts to create the best color in the crown can also affect cost. While we think of teeth as uniformly "pearly white," there really are variations and gradations in normal tooth color (even within the same tooth). Again, a bit of artistry is important here, as the dentist communicates with the technician on not only the color but also the subtle hue gradations along the length of the crown. Your input as a patient is also valuable in determining color — you must be satisfied with the final product. Fortunately, it's now possible to take a "test drive" of your potentially new look with a provisional crown that will allow you to see just how your permanent crown (which will be made of longer-lasting, higher quality materials) will appear.
These factors, as well as the limitations you may face by your insurance coverage, can greatly influence the final cost of treatment. As your dentist, we will consult and work with you to find the best crown restoration option that will fit both your dental needs and your financial ability.
If you would like more information on your options for crowns and other restorations, please contact us or schedule an appointment for a consultation. You can also learn more about this topic by reading the Dear Doctor magazine article "Value of Quality Care."