Posts for: February, 2015
By Carlos Abreu, D.M.D. and Mahvassh Abreu, D.M.D.
February 27, 2015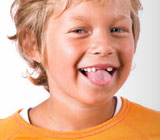 Losing a baby tooth is an important milestone in a child's life. Be sure to take a photo of that toothless smile — it will be something you treasure as your child grows up.
You may be wondering what is really happening when a baby tooth becomes loose and eventually falls or is pulled out. Read on for some answers.
What are baby teeth?
An infant's teeth begin to form before birth, by the fifth to sixth week after conception. When the baby is born, 20 primary (baby) teeth are almost completely formed inside the jaws. These first teeth, also called deciduous teeth, begin to erupt through the gums at about the time the baby begins to eat solid food. The front teeth (incisors) are usually the first to come in, at age six months to a year.
Why are they called deciduous teeth?
Deciduous means "falling off at maturity." The same term refers to trees that lose their leaves every fall. In many mammals, including humans, it refers to the first teeth, which need to come out to make room for the larger permanent teeth to come in.
What causes the deciduous teeth to become loose?
While your child is using his primary teeth to bite and chew, his adult (permanent) teeth are quietly growing inside his jawbone. Starting with tooth "germs" (the word comes from germination, meaning the start of growth), the top part of each tooth, called the crown, grows first. Then the bottom part, or root, begins to grow and elongate. As the roots develop and the permanent teeth take up more room in the child's jaw, they begin to push against the baby teeth. This causes the roots of the baby teeth to melt away or resorb. Eventually little or nothing is left to hold the baby teeth inside the child's gums, they become wiggly, and finally they can easily be pulled out. This may leave a little bleeding gum tissue that quickly heals.
What should you watch for in the transition from primary to permanent teeth?
As the permanent teeth erupt (push through the gums and become visible), you may notice that they are too crowded, have too much space between them, or are crooked. It's a good idea to have an orthodontic (from ortho, meaning straight and dont, meaning tooth) evaluation at age five to seven. Watch to see that the baby teeth are lost in the right sequence. If one is lost prematurely, for example from decay, make sure that the space that it occupied is maintained to make room for the adult tooth that will replace it. We can help you with this.
Contact us today to schedule an appointment to discuss whether your child's baby teeth are being lost in the right sequence and if the adult teeth are coming in correctly. For more information see the Dear Doctor magazine article "Losing a Baby Tooth."
By Carlos Abreu, D.M.D. and Mahvassh Abreu, D.M.D.
February 12, 2015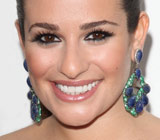 Not long ago, Glee star Lea Michele had all of her wisdom teeth removed. This is a very common procedure that people in their twenties, like Michele, often undergo to prevent serious dental problems down the road. The actress found that the procedure really was actually not very difficult to tolerate.
"Feeling all better from my surgery!" she tweeted to fans a few days later. "Back to work tomorrow."
Why do wisdom teeth so often cause problems? For one thing, they come in years later than the other 28 permanent teeth — usually between the ages of 17 and 25. By that time, there is often no room in the jaw to accommodate them. As man has evolved, the jaws have actually become smaller in size — often creating a lack of space for the wisdom teeth to erupt into proper position. If wisdom teeth become blocked (impacted) by other molars that are already there, infection and damage to neighboring teeth may result.
Sometimes the wisdom teeth themselves cause the problem by growing in at an odd angle. They push against other teeth, often compromising the adjacent tooth's supporting bone. While you would think pain would occur if any of these problems were present, that does not always alert us to a wisdom-tooth problem. It's usually diagnosed with the help of x-rays.
Wisdom tooth extraction is often performed in the dental office using a local anesthetic (numbing shot) to keep you from experiencing any pain, along with conscious sedation to help you relax. The type of anesthesia that's best for you will be determined before the procedure.
After we gently remove the tooth or teeth, you may need to have the site sutured (stitched) to promote healing. You will rest for a short time before going home, and may need to have someone drive you, depending on what type of anesthesia you were given.
Once you get home, you should apply an ice pack on the outside of your cheek for about five minutes on, five minutes off for as many hours as possible to help reduce any postoperative swelling on the first day. Starting on the second day, the warm moist heat of a washcloth placed on the cheek and hot salt water rinses will make you more comfortable. You may want to eat soft foods and brush your teeth very carefully during the recovery period, which lasts only a few days as Lea Michele discovered. Before you know it, you'll be "feeling all better!"
If you have any questions about wisdom teeth, please contact us or schedule an appointment for a consultation. You can learn more by reading the Dear Doctor magazine article "Wisdom Teeth."