Posts for tag: clear aligners
By Carlos Abreu, D.M.D. and Mahvassh Abreu, D.M.D.
December 30, 2013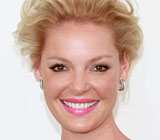 Many adults these days are opting for clear aligners to correct orthodontic problems that have long bothered them. Katherine Heigl is a perfect example. She had one tooth that was out of alignment, and wanted to have it fixed before her wedding day.
"I got them [clear aligners] because of this wonky tooth," Heigl told In Style magazine not long ago. "It's awesome because every two weeks you switch to a new retainer. Pretty much the perfect way to describe Invisalign is Netflix for your teeth."
That's actually a pretty good way to describe this highly user-friendly form of orthodontic treatment. Clear aligners are transparent, plastic oral appliances that are changed every two weeks so that your teeth can be moved a little bit at a time, according to a carefully staged sequence. Though they cover your teeth completely, clear aligners are barely noticeable.
In fact, when Heigl excused herself before taking out her aligners to eat, her In Style interviewer said, "Who knew you wore them? I guess that's the point of Invisalign."
Being able to remove the aligners for eating and, more importantly, teeth-cleaning, is another major advantage of this method of straightening teeth. Successful orthodontic treatment for adults depends on good periodontal health ("peri" – around; "odont" – tooth), and the best way to keep your gums and the underlying bone that supports your teeth healthy is to keep up an effective daily oral hygiene routine.
Clear aligners have been improved in recent years to correct more complicated malocclusions ("mal" – bad; "occlusion" – bite) than previously; they can even work well for teenagers. But there are still some cases that call for traditional braces. We would be happy to explore all the different options for orthodontic treatment with you, whether you have crowded teeth, an overbite or underbite, or just one "wonky tooth."
If you would like more information about clear aligners, please contact us or schedule an appointment for a consultation. You can also learn more about clear aligners in general by reading the Dear Doctor magazine article "Clear Aligners For Teenagers." Dear Doctor also has more on "Wedding Day Smiles."
By Carlos Abreu, D.M.D. and Mahvassh Abreu, D.M.D.
June 14, 2013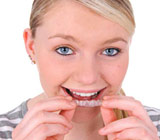 You've probably heard of the relatively new method of straightening teeth with thin, plastic orthodontic appliances ("ortho" – to straighten; "odont" – teeth) known as clear aligners. Here are some reasons you might want to consider them for your orthodontic treatment:
Appearance. Looks aren't everything, as the saying goes. But it may be that metal-covered teeth will not give you a look you want to sport for perhaps a year or more. Adults in particular find that metal braces don't always fit in with their self-image. Because clear aligners are virtually invisible, your teeth will look as they always do and it will not be obvious that you are undergoing orthodontic treatment.
Control. When you have traditional braces, you cannot take them out of your mouth yourself. They must be professionally removed when your treatment is completed. With clear aligners, however, you can take them out to eat and also for important social occasions. Of course, that means you are also responsible for wearing them as often as needed — a minimum of 22 hours a day. It's a good bargain if you can live up to it, and most find that they can.
Hygiene. One of the challenges of traditional braces is to learn to clean around them so that your teeth and gums stay healthy throughout treatment. It's not always so easy to do. With clear aligners, you can maintain your usual oral hygiene routine — and also clean the aligners themselves.
Comfort. Sometimes the rigid brackets and wires of traditional braces can press into sensitive tissues of the mouth. It's something that you will eventually get used to, but it can be uncomfortable temporarily. The material of clear aligners is flexible, so this type of irritation is not an issue.
Versatility. In recent years, the clear alignment system has been improved to handle more serious malocclusions ("mal" – bad; "occlusion" – bite). Enhancements have also been made to accommodate additional growth of molar teeth in the case of teenagers.
While there are some cases in which traditional braces are still the best option, clear aligners have more applications than ever before. They also have some clear advantages that are worth considering.
If you would like more information about clear aligners, please contact us or schedule an appointment for a consultation. You can also learn more about clear aligners in general by reading the Dear Doctor magazine article "Clear Aligners For Teenagers."