Posts for tag: common symptoms
By Carlos Abreu, D.M.D. and Mahvassh Abreu, D.M.D.
June 17, 2014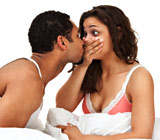 Nobody wants "halitosis," commonly known as bad breath. Americans spend an estimated $3 billion per year on breath freshening products like candies, chewing gum and sprays, but that really just masks the problem. Bad breath is clearly a major concern. Treating bad breath effectively means understanding and treating what causes it.
And The Top Ten Main Causes of Bad Breath Are:
You just woke up — because saliva flow is reduced during the night, it is normal to wake up with a dry mouth and "morning breath."
It was something you ate — garlic, onions, coffee, alcohol, spicy foods and more — are common causes — luckily they are temporary. Brushing, flossing and mouthrinses may help.
It was because you didn't eat — fasting can result in bad breath. In hunger, especially starvation, a person's breath may actually smell like nail polish remover (acetone). This comes from ketones that are produced as the body metabolizes fat for energy production.
"Xerostomia," literally dry mouth — from plain old dehydration, and certainly many medications can cause dry mouth leading to bad breath. Drinking sufficient quantities of water is helpful and important.
Smoker's breath — If you are a smoker, the telltale odor lingers — for days and weeks. Try quitting for multiple health benefits.
Ineffective oral hygiene — buildup of food remnants and bacteria on and between your teeth and gums is a prominent cause of bad breath.
Bacterial accumulation on the back of your tongue — large numbers of bacteria accumulating in the nooks and crannies, where they may give off volatile sulfur compounds (VSCs), which have an odor reminiscent of rotten eggs.
You may have tooth decay or periodontal (gum) disease — one of the main causes of bad breath is gum disease. Studies have shown that the more VSCs a person has on their breath, the more likely it is that they have gum disease. Openly decayed teeth can also be a cause of bad breath.
You may have a problem with your nose or tonsils — Nasal odors exhaled from the nose and mouth may be a result of sinus infections, foreign bodies, or infections of your tonsils.
Serious health conditions — like diabetes, lung disease and cancer can also be systemic (general body causes of bad breath) that do not emanate from the mouth.
Because some of these problems are serious and need treatment, don't just try to cosmetically camouflage bad breath. Make every effort to remove the film of bacteria (plaque) from your teeth and gums every day; if this does not cure your bad breath, contact us for an assessment, diagnosis, and treatment.
Contact us today to schedule an appointment or to discuss your questions about bad breath. You can also learn more by reading the Dear Doctor magazine article "Bad Breath: More than just embarrassing."
By Carlos Abreu, D.M.D. and Mahvassh Abreu, D.M.D.
May 15, 2013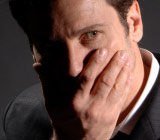 Most people agree that bad breath is more than embarrassing. It affects personal, social and business relationships. Although Americans spend roughly $3 billion annually on gum, mints and mouth rinses that promise relief, they are nothing more than temporary cover ups. Discovering the underlying cause of the problem is the only way to effectively eliminate the halitosis ("halitus" – breath; "osis" – disorder) long term. If you have bad breath, we can help.
While it's true that there are a few systemic (general body) medical conditions that can cause bad breath, including lung infections, liver disease, diabetes and cancer, the majority of causes originate in the mouth. We can conduct a simple oral examination to help diagnose the underlying cause of your bad breath. We will check your mouth thoroughly for signs of any dental problems that can produce an odor, including decayed or abscessed teeth, diseased gums, a coated tongue or infected tonsils. Typically, halitosis occurs when bacteria collect on the surface and back of the tongue where it is drier. Bacteria thrive in this environment, resulting in a "rotten egg" odor that so many of us are all too familiar with. This odor actually emanates from volatile sulfur compounds (VSFs), but will go away with proper treatment.
Once the exact cause is pinpointed, your halitosis can be treated in several ways. For example, we can show you how to brush and floss properly to more effectively remove bacteria responsible for tooth decay and gum disease — don't be embarrassed, nobody really knows until they're shown by a professional. We can also show you how to use a tongue scraper or brush to carefully clean the surface of your tongue. Treatment of tooth decay, the repair of defective or broken fillings, extraction of wisdom teeth (third molars) and periodontal (gum) therapy such as scaling and root planing (deep cleaning) will all help treat infection and consequently bad breath.
You don't have to be embarrassed by bad breath any longer! The sooner you call our office to schedule an examination, the sooner you will be able to breathe a lot more freely. For more information about the causes of bad breath, read the Dear Doctor magazine article "Bad Breath: More Than Just Embarrassing."