Posts for tag: dental injuries
By Carlos Abreu, D.M.D. and Mahvassh Abreu, D.M.D.
July 09, 2017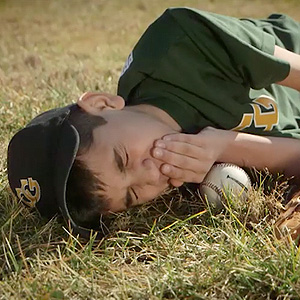 Once they learn to walk, there's no stopping most children. Sometimes it can be a little jarring, as when you discover your toddler on top of the kitchen counter reaching in the cupboard on tip-toes for a snack!
Fortunately, children are fairly resilient. Unfortunately, they're not invincible — some of their adventures could result in physical injuries, especially to the highly vulnerable area of the mouth.
Even if you've carefully "child-proofed" your home, it's still best to be prepared for mishaps. Here are 3 common dental injuries and how to handle them.
Soft tissue injuries. Making contact with the ground or hard objects like furniture can injure the lips, tongue, cheeks or gums and cause bleeding, cuts or bruising. First, clean the area with clean water and a cloth or gauze as best you can, making sure there aren't any trapped pieces of tooth or dirt. Apply gentle, continuous pressure with a clean cloth to control bleeding, and apply ice packs or cold compresses for swelling. Don't apply bleach, aspirin or similar medications to open wounds. If the bleeding won't stop or the wounds look serious or deep, go to an emergency room.
Chipped or displaced tooth. A blunt force mouth injury can chip or push (displace) teeth out of position. In this case try to save any chipped pieces you find — your dentist may be able to re-bond them to the tooth. A displaced tooth is a dental emergency, so contact your dentist immediately. Don't try to re-position the tooth yourself unless it's completely knocked out.
Knocked-out tooth. Actions to take with a knocked-out tooth depend on whether it's a permanent or primary (baby) tooth. If permanent, rinse the tooth with clean water. Handle it by the crown (never by the root) and gently place it back in the empty socket. If that's not possible, place the tooth between your child's cheek and gum (if the child is old enough not to swallow it by mistake. You can also place it in a glass of cold milk. Get to a dentist or an emergency room as soon as possible — minutes count for a successful reattachment. Conversely, don't try to put a primary tooth back in its socket — you could damage the developing permanent tooth beneath the gum line. But do see a dentist as soon as possible for an examination.
If you would like more information on responding to mouth injuries in children, please contact us or schedule an appointment for a consultation.
By Carlos Abreu, D.M.D. and Mahvassh Abreu, D.M.D.
April 24, 2015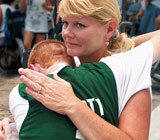 Witnessing or being involved in a sports-related dental injury can be a scary event not only for the player, but also for onlookers even if the injuries turn out to be minor. However, knowing what to do — and more importantly — how quickly to react can make a radical difference to the outcome. This is just one reason why we want to share the following easy-to-remember guidelines for what, how and when you need to respond to various types of dental injuries.
Immediate — within 5 minutes of the injury: If a permanent tooth is totally knocked out (avulsed), it requires immediate treatment by cleaning and re-implanting the tooth back into its original position to have any hope of saving the tooth long-term. Knocked out baby (primary) teeth are not reimplanted for fear of damage to underlying permanent teeth.
Urgent — within 6 hours of the injury: If a permanent or primary tooth is still in the mouth but has been moved from its original position, it is considered an acute injury and should be treated within 6 hours.
Less urgent — within 12 hours of the injury: If a permanent or primary tooth is broken or chipped but has not shifted from its original position, the injury is classified as less urgent. You still need to see a dentist for an exam; however, you generally can wait up to 12 hours before possible irreversible damage occurs.
Want To Learn More?
There are several ways you can learn more about sports-related dental injuries.